Internet Dating Exercise
When am I going to meet my Soul Mate?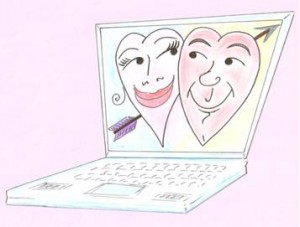 This the most commonly-asked question I hear in my work as a Psychic, so a few years ago I did some research into the joys and travails of modern mate-finding.  The resource website 21st Century Matchmaking  is a result of that research.  Here are some important tips relative to the pitfalls of launching oneself into the world of internet mate-seeking:
1.  Create your "ideal" mate list.  This will help you get clear about what you DO want in your life and you will need this information to create your Profile on whatever site you choose to use.  If you need some suggestions, you can check my Profile Page.  Star your non-negotiables and add "This or Something Better" at the end.    Do not use negatives like no, not, don't, etc.  Be specific:  ask for what you want.
2.  DO NOT lie or stretch the truth in any way on your Profile.  Prospects will ultimately find out, and any potential relationship will be at the least hindered by questions of trust.  ("If she lied about that…")
3.  There are a number of free, paid and niche dating websites.  From my research and the experience of many of my clients, the paid sites seem to offer better results.  (www.match.com  has been very successful for some of my clients)  Participants seem to be more serious about finding a relationship, since they are willing to pay for the service.  There are several suggested links on my website.
4.  If  you seek a partner who is Spiritually inclined, use the word "Spiritual" in your Profile as often as possible.  It will eliminate those who do not understand what that means and save you time and energy.  www.spiritualsingles.com   might be a good choice.
5.  Open the mileage radius larger than your local area.
6.  Use a web cam to meet the person before meeting them in person.  Use your intuition to sense their energy and get a feeling as to whether you want to continue the adventure.  It's simply safer and can save a great deal of time and energy.

PSYCHIC EXERCISE
1.  Get a journal or have your Ipad or a computer file available to record your impressions.
2.  Go through the Profiles, looking only at the pictures, staring into the eyes.
3.  Stop at anyone you "feel" or "sense" something from.
4.  Don't look at the Profile information yet.
5.  Record their name and your first impressions – whatever feelings, sights, sounds or insights you perceive – anything.  Often the small things can mean a great deal later.  Try not to judge the information – just record.
6.  You might want to ask the following questions.  You can use neuro-muscular feedback to get an answer or simply your psychic perception – record any sights, sounds or feelings:
Do I know this person from another lifetime?
What was our relationship?
When in time, more than once?
What is our most important lesson/issue, if any, in this lifetime?
Is it for our highest and best good to explore this connection now?
What is their profession?
Do they have children?
How do they like to spend their time?
7.  When you feel complete – then look at the Profile to see if there is any information you can verify there.  Be sure to record that information.
8.  If you feel so led, proceed with the contact.  Trust your intuition – if it doesn't "feel" right – move on.
9.  If you choose to pursue the relationship, continue to record any information or perceptions as you explore.  Highlight all of your "hits".
10. It might also be helpful to read my post about Instant Recognition.
TRUST YOUR INTUITION and HAVE FUN!
PS  If you would like a peek into your most probable future, I am often able to remote view potential relationships, giving details to help you on the journey.  This is one of my favorite stories:
I described to a client a bearded man, whom she would encounter at a party or wedding near the water.  He would be sitting at the end of a bar, which I saw to her right.  She responded, "I would never be attracted to someone like that!" (She wasn't into guys with beards). 
Two weeks later, she was at a wedding near the water and saw the man I described at the other end of the bar.  She went over and introduced herself; they are now engaged (and he shaved off his beard).  She said she would never have given him a second look had it not been for my reading.
MORAL:  Never say never!