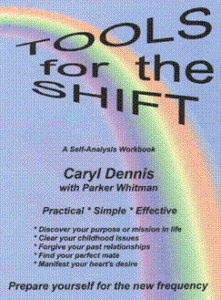 Tools for the Shift
Caryl Dennis
Over the last twenty-two years or so, while doing intuitive readings for people around the country, I've noticed that many of my clients shared the same issues and concerns:
        What's my purpose or mission in life?
        When will I meet my soulmate?
        Why do I repeatedly manifest the same "messes" in my life?
        Where should I move?
During the quest to answer these and other questions for myself, I had the opportunity to benefit from a variety of psychological therapies, tools and processes; a slew of books; support groups, lectures and workshops with top authors and researchers; and, most importantly, telepathic contact with my twin sister Karyl (Refer to our book The Millennium Children:  Tales of the Shift for that story).  In the process of implementing all this information, I've manifested what some might call "miracles"; I believe that with sufficient effort and dedication, anyone can do the same.
I share these simple, practical processes in Tools for the Shift to help you do the same.   Change your life today!
Testimonials
Tools for the Shift helped me so much when my life was such a mess and I didn't know what to do next.  Thank you for writing it!  —  BF
The processes in Tools for the Shift are so simple – yet so powerful.  When I was finished, I knew just what to do next.  It was amazing. — RM
Order your E-Workbook Today!
(pdf file – no special technology required)
only $7.79